Free Background Stock. Justin Trudeau.
Canada: Trudeau is deceiving the public
"Trudeau's town hall trip is underway to escape in his own words, 'governmen-titis'. Already, the public is asking a lot of hard questions and thus far have received little response of value. From question after question he continues to respond to the same old talking points; many of which are an outright deception to project a positive appearance. In this video, we go over a few of these points in which he continues to deceive the public."
Bruce Wayne
Published on 17 Jan 2018.
"A Canadian, is a Canadian, is a Canadian."
Justin Trudeau.
"Even if a Canadian is a convicted terrorist, who considers himself to be an enemy combatant of Canada, and has killed other Canadians and Americans. Should we allow such a person to be repatriated to Canada? The answer that the majority of Canadians would provide, is No! Logical, Eh?"
Patrick Ireland – Publisher of www.patrickirelandsreviews.com
Don't Be Duped By Trudeau's Carefully Planned Theatre Of Deception
Did you hear the latest from Donald Trump? Wow. "No country would find 173 billion barrels of oil in the ground and leave them there."
What a thing for Trump to say, right?
Note he wasn't talking, Jed Clampett Texas tea, a bubbling crude, oozing easily and happily out of the ground. He was talking bitumen. The worst of the worst.
To make bitumen into usable fuel "is a hugely expensive energy — and water-intensive endeavor that involves strip mining giant swaths of land and creating loads of toxic waste and air and water pollution." Packed extra full of carbon, nitrogen, sulfur.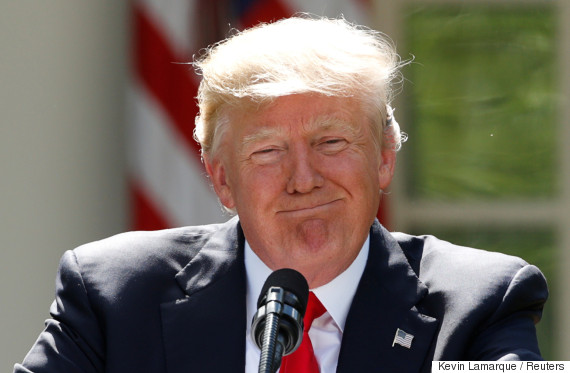 Image Courtesy Of Kevin Lamarque/Reuters.
Oh yeah, heavy metals include, but not the sort you listen to. The stuff that fills you, and your children, full of carcinogens.
But they also need to get it to port. So Trump's declares he's going to put the bitumen in pipelines out to the West Coast, no matter what people think — through parklands, under streams and rivers, crossing and shoved through mountains!
Once at the port, imagine the wretchedness if the tanker breaches while getting shipped out to Asia. The bitumen will sink right to the bottom of the ocean floor. Maybe right off the West Coast.
How will such a catastrophe affect aquatic life? We really don't know because "[t]here just isn't enough science in the public eye to answer questions about the risk bitumen poses to the ocean," said Stephanie Green, a Banting post-doctoral fellow in the Center for Ocean Solutions at Stanford University.
Just like its gassy industry cousin who fracks, it turns out the oil industry really doesn't like talking about it or providing the data so it can be studied.
Geez. Why would that be? Cause it's great for the ocean and they hate to get all the credit for being so fabulous? Hardly. Imagine the exact opposite.
It gets worse. Trump, with the shameless audacity of a full-fledged liar, says he's doing it "based on rigorous debate, on science and on evidence."
Digging into bitumen, stuffing it into pipelines, ripping up the earth to get it to port, off to tankers to be burned in Asia, jibes with "the science"? Even when the scientists loudly protest, saying none of it is true?
Wow. Typical Trump logic — or better, illogic, right?
How empty-headed and duplicitous can one be? What a catastrophe for the world. No wonder countries around the world have called him out on it.
But wait a minute. Hold it. There's something not right with this …
That's not Trump saying all those things, is it?
No, it isn't.
That's not Donald Trump. It's Justin Trudeau, our Canadian PM who says it.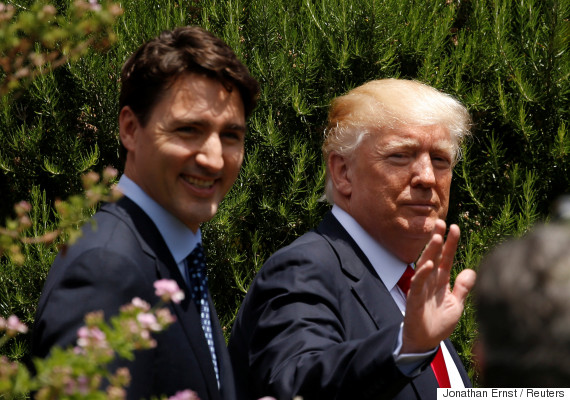 Image Courtesy of Jonathan Ernst/Reuters. U.S. President Donald Trump waves next to Canadian Prime Minister Justin Trudeau, following a family photo at the G7 Summit expanded session in Taormina, Sicily, Italy May 27, 2017. 
Don't Be Duped By Trudeau's Carefully Planned Theatre Of Deception
Image Courtesy of Twitter. It's Theatre Alright, Theatre Of The Absurd. #Don't Tell Canadians That Canada Has No National Core Identity. Do Not Inform Canadians That We Are A Post-National State, Canada Is A Country; Or You Will Regret Your Actions In The Coming Election.  #Do Not Vote For Liberals in 2019!
http://www.huffingtonpost.ca/g-elijah-dann/justin-trudeau-pipelines_b_16990252.html
Written By G. Elijah Dann
Source: HUFFPOST.
Canadian Senate Committee On Ethics Talk About Justin Trudeau
"Justin Trudeau is in big trouble now. Trudeau doesn't care about you or the rest of Canada. He is here to sell you out to greedy billionaires."
Renegade Media
Published on 13 Jan 2018.
"The Standing Senate Committee on Ethics In Canada are beginning to ask that Prime Minister Trudeau appear before their committee and answer serious questions regarding his four ethics violations that he was adjudged to be in breach of by the former Ethics Commissioner of Canada, Mary Dawson. It appears that the Liberal Pary spokespersons have indicated that they will not respond to the requests of this Senate Committee on Ethics, for Prime Minister Trudeau to appear and answer questions before this committee. PM Trudeau is openly disrespecting the Canadian Parliamentary rules which he is entreated to function under, he is refusing to appear before this committee to answer questions regarding his vacation trip to the Aga Khan's private island!
The Canadian Government, the C.R.A., the Canadian Parliament, and all Members of the Canadian Parliament owe a "Duty of Care" towards Canada's Parliament and towards all Canadians. In reality, Canadians do not work for the members of Canada's Parliament, we should remind the members of Canada's Parliament that they were elected by Canadians to work for Canadians, not the other way around!  Members of the Parliament in Canada who were elected by Canadians, and do not follow the mandate of the majority of people in Canada will lose all of their credibility up to the next coming election in 2019.
Appear to answer the questions, Prime Minister Trudeau, or you are behaving as a rogue entity within our country, follow the rules! You alone, do not represent Canada!"
Patrick Ireland – Publisher of www.patrickirelandsreviews.com
DUELING BANJOS ~ Guitar & Banjo Song ~ Deliverance
"The Dueling Banjos scene from the 1972 American thriller film "Deliverance" by John Boorman."
Z1DO4U
Published on 30 Mar 2014.
Roy Clark & Buck Trent Dueling Banjos
Image Courtesy of YouTube
Roy Clark & Buck Trent Dueling Banjos.
Andromeda Nebula
Published on Aug 10, 2014
"Now we move on to Andrew Scheer and Justin Trudeau in Parliament, 'dueling,' and not getting much of anything accomplished, at all, except empty rhetoric. And Trudeau keeps repeating the same lines over, and over again. #Boring!"
Patrick Ireland – Publisher of www.patrickirelandsreviews.com
Image Courtesy of CANADIAN PRESS. #Reminds One Of An Episode In A 'Bevis and Butthead' Skit. #Theatre Of The Absurd.