Free Background Stock. Justin Trudeau. #The Long-Haired, Mac-Daddy. #Gangster. #Isis Apologist. #Islamo-Fascist. According to Roget's Thesaurus the definition of a 'Gangster" is an individual who associates himself with a group of people (In this case, Isis, Jihadist militants) for whom their main predilection is to, "Kill, murder, butcher, slaughter and victimize," innocent men, women, and children. As our own Prime Minister has openly associated and aligned himself with this group of individuals, he deserves to be labeled as a "Gangster." Quid-Pro-Quo (a favor or advantage granted or expected in return for something).
"Returning Islamic State Jihadists Can Be An 'Extraordinarily Powerful Voice" in Canada.
Justin Trudeau.
"Take the Red Pill Justin, to make such an irresponsible statement in our Canadian Parliament is a great testimonial to your integral lack of judgment and to the total lack of cohesion and responsibility which you are assuming, on your role to protect Canadians as our Prime Minister. Isis Jihadists cannot be rehabilitated. I will allow the following video and articles to speak to my reasons why this is definitely the case.
The main problem with Canada today runs much deeper than with the 'Canadian Experience.' Canadians must first begin addressing some of the 'external' issues that are affecting not only Canada today, but many 'democratized,' developed countries in the northern hemisphere. The main problem with Canada is not uniquely a Canadian problem; it is the result of a historical takeover of our country that was already initiated by other Prime Ministers and Pierre Trudeau in 1974 when he turned the Bank of Canada over from a public bank to Rothschild private banking interests. Pierre was a Bilderberger and Justin is following his father's modus operandi, holding secret meetings that are 'leaked' to the CBC and the mainstream Liberal Press Corp.
The IMF, the Rothschilds, and the globalists are behind the fall of Canada today. Justin Trudeau is simply a tool of the Islamo-Fascist Left-Wing Alliance that represents the frontline soldiers of the New World Order, who are systematically dismantling the economic systems of many developed nations around the world, under the guise of radical Islam. If you want the sheep to understand what is really the cause of Canada's troubles, we should be addressing the deeper malaise that exists over this entire Earth, that is bringing the fall of the U.S. dollar and the systemic destruction of many developed countries in the northern hemisphere.
We should not only address the issues within Canada, our problems run much deeper than the surface politics of the Liberals, the NDP, and the Progressive Conservative Party. We must take the time to educate Canadians because that is what they need in order to fully understand the entire truth of the matter. We have the potential to become a great voice for Canada as long as we include information about the greater external threats facing Canadians, in addition to the issues that are involved in the secular politics within the country today.
It is time for the Governor General of Canada to step in and dismiss this Prime Minister from public life for his irresponsible actions and irrational statements. The behavior and statements made by this Prime Minister are no longer amusing for Canadians to watch. Justin Trudeau does not care about the safety of all Canadians, at least those Canadians who cannot afford 3 million dollars in C.S.I.S. And R.C.M.P. Protection, at the expense of the taxpayers."
Patrick Ireland – Publisher of www.patrickirelandsreviews.com
VIDEO – Madness – Justin Trudeau Opposes Jailing ISIS Fighters Wants to Reintegrate Them into Canada.
Image: Shutterstock.com
"Video of Justin Trudeau angrily opposing efforts to jail returning ISIS members and espousing dubious programs to reintegrate them into the Canadian population."
NeoUnrealist
Justin Trudeau: Returning Islamic State Jihadists Can Be 'Extraordinarily Powerful Voice' in Canada.

Image: CTV
"Canadian Prime Minister Justin Trudeau argued in an interview to air next week that a reformed Islamic State (ISIS/ISIL/IS) terrorist can evolve into "an extraordinarily powerful voice for preventing radicalization," an endorsement of programs he has promoted to reintegrate veteran jihadists into Canadian society.
The end-of-year interview with CTV will air in full on December 29, but the outlet published snippets of Trudeau's responses to a variety of questions on Friday. Asked about the potential to rehabilitate Canadian citizens who traveled to Syria and Iraq to join the Islamic State, the prime minister said, "There's a range of experiences when people come home."
"We know that actually, someone who has engaged and turned away from that hateful ideology can be an extraordinarily powerful voice for preventing radicalization in future generations and younger people within the community," he argued.
CTV notes that, in promoting rehabilitation for these individuals, Trudeau is contradicting Public Safety Minister Ralph Goodale, who recently expressed pessimism at reforming jihadist individuals with battleground experience."
Frances Martel.
Please follow the link to read the original article. Under Fair Use.
http://www.breitbart.com/national-security/2017/12/20/trudeau-returning-islamic-state-jihadists-extraordinarily-powerful-voice-canada/
Written By Frances Martel
Source: BREITBART.
Canada Is Concerned About Returning ISIS Fighters, Justin Trudeau Says. #Embarrassing!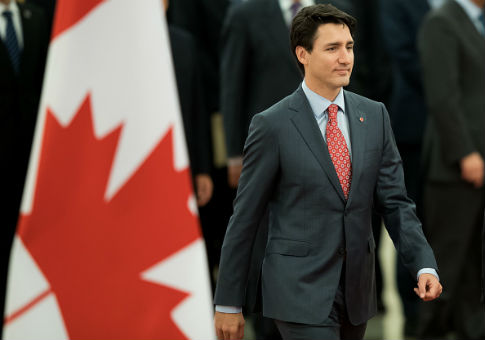 Canadian Prime Minister Justin Trudeau/Getty.
"Canada is concerned about the national security threat posed by citizens who joined the Islamic State group, returning to this country, Prime Minister Justin Trudeau said Monday.
In parliament, Trudeau pledged to prosecute those who broke Canada's anti-terrorism laws by joining the ISIS group, but also said his government would try to reintegrate them into society.
READ MORE: Quebec man sentenced to 9 years in prison for trying to leave Canada to join ISIS
"We recognize the return of even one individual (who joined the ISIS group) may have serious national security implications," Trudeau said."
By Staff Agence France-Presse
Please follow the link to read the original article. Under Fair Use.
Canada concerned about returning ISIS fighters, Justin Trudeau says
Written By Staff Agence France-Presse
Global NEWS.
Fact Check: Are Liberals Welcoming ISIS Returnees To Canada With Open Arms?
Image: Global News.
OTTAWA – "The question of what to do about members of the so-called Islamic State who try to return to Canada has become a heated political battle in recent weeks.
The Liberals are putting the safety of all Canadians at risk by allowing (Islamic State) fighters to return to Canada and proposing a 'reintegration program' and support services for them, Conservative deputy leader Lisa Raitt wrote in a fundraising letter last week.
Prime Minister Justin Trudeau shot back in a fiery exchange with Conservative Leader Andrew Scheer on Tuesday, defending the government's approach even as he accused the Tories of scaremongering. We have enforcement, surveillance, and national security tools that we use to a significant degree, he said. But we also have methods of de-emphasizing or de-programming people who want to harm our society, and those are some things we have to move forward on."
By Lee Berthiaume The Canadian Press
Please follow the link to read the original article. Under Fair Use.
Fact check: Are Liberals welcoming ISIS returnees to Canada with open arms?
Written By Lee Berthiaume –  The Canadian Press
Source: Global NEWS.
Trudeau: ISIS Fighters Returning Home to Canada 'Can Be an Extraordinarily Powerful Voice for Preventing Radicalization.'
Image Credits: Ahmad Al-Rubaye/AFP/GETTY IMAGES.
"Canadian Prime Minister Justin Trudeau said in a recent interview that Islamic State fighters who return home to Canada can be rehabilitated and serve as "an extraordinarily powerful voice for preventing radicalization in future generations."
Trudeau sat down with CTV chief news anchor Lisa LaFlamme for a wide-ranging interview to reflect on 2017, including the collapse of ISIS' so-called caliphate in Iraq and Syria and the threat posed by the group's Canadian terrorists returning home."
Aaron Kliegman.
Please follow the link to read the original article. Under Fair Use.
http://freebeacon.com/national-security/trudeau-isis-fighters-returning-canada-can-powerful-voice-preventing-radicalization/
Written by Aaron Kliegman
Source: THE WASHINGTON FREE BEACON.
Rachel Marsden: Returning Jihadists Need Prison, Not Couches.
Free Background Stock. Welcome To Canada!
PARIS — "The Russian Defense Ministry and Iraqi Prime Minister Haider al-Abadi made separate announcements last week that the Islamic State had been defeated. Of course, this doesn't mean that these terrorists won't be popping up elsewhere like bomb-toting, head-chopping Whac-A-Moles.
Last month, the BBC reported a deal that allowed some ISIS fighters to escape the Syrian city of Raqqa — the Islamic State's former "caliphate" — under the nose of Western and Kurdish officials, ostensibly to facilitate a declaration of "mission accomplished."
The question is where these fighters will pop up next. Are we supposed to believe that they're going to parlay their real-world experience making violent propaganda videos into careers with advertising agencies? Will they be making documentaries to peddle on the film-festival circuit?
Some prominent leaders are holding open the door for Islamic State members to return to the West. This is the subject of debate in Canada and France, with Canadian Prime Minister Justin Trudeau and French President Emmanuel Macron entertaining the idea of allowing the return of citizens who left to join ISIS overseas. (I'm even more worried about countries that aren't having this debate and whose returning ISIS fighters have quietly slipped back in beneath the radar.)"
American Voices.
Please follow the link to read the original article. Under Fair Use.
http://www.chicagotribune.com/news/columnists/sns-201712111433–tms–amvoicesctnav-b20171211-20171211-column.html
Written By American Voices
Source: Chicago Tribune.
Trudeau Must Have A "Pathological Case Of Liberal Guilt."
Free Background Stock. #Welcome Back Home To Canada, Isis!
FOX News Slamming Prime Minister of Canada Justin Trudeau's outrageous and dangerous welcoming of returning ISIS fighters claiming they will be productive Canadian citizens. Twitter
https://twitter.com/Steeper33
Steeper33
Trudeau Sparks Outrage With Plan To 'Reintegrate' ISIS Terrorists Back Into Canada.
Free Background Stock. Welcome To Canada, Isis.
OTTAWA, November 21, 2017 (LifeSiteNews) — " Conservative leader Andrew Scheer blasted Prime Minister Justin Trudeau for the Liberal plan to "reintegrate" Canadians who return to the country after fighting for the Islamic State of Iraq and Syria.
"These are people who got on a plane to fight for ISIS and watched as our allied soldiers were burned to death in a cage. These are people who got on a plane to go to fight for an organization that sells women and girls into slavery. These are people who left Canada to fight for a group of people who push homosexuals off buildings just for being gay," Scheer told the House of Commons Monday.
"Can the Prime Minister explain to the House exactly what a program or reintegration service would look like for the people who commit these kinds of atrocities?"
The government revealed in late 2015 that some 180 individuals "with a nexus to Canada" had joined Islamic terrorist groups overseas, and an additional 60 had come back to Canada, according to a report by CBC's Evan Dyer.
Public Safety Minister Ralph Goodale confirmed in the House 60 ISIS terrorists were back in Canada and "under very careful investigation."
Lianne Lawrence.
Please follow the link to read the original article. Under Fair Use.
https://www.lifesitenews.com/news/trudeau-sparks-outrage-with-plan-to-reintegrate-isis-terrorists-into-canada
Written By Lianne Lawrence
Source: LIFE SITE.
Trudeau's Endless Scandals
All the people that will disappoint you in one comforting picture. Adrian Wyld / THE CANADIAN PRESS.
"The road to Hell is paved with bad intentions."
Patrick Ireland – Publisher of www.patrickirelandsreviews.com
"Justin Trudeau is truly impressive– his propensity for scandals, corruption, dirty dealings… and selfies, is overwhelming."
James Pawson
Published on 4 Jan 2018.
Exposed: Joshua Boyle Met With Trudeau During Alleged Crime Spree
Image: Rebel Media. #Common Interests With A Psychopath!
"Ezra Levant of TheRebel.media reports on Joshua Boyle's meeting with Justin Trudeau that occurred in the middle of his alleged crime spree."
Rebel Media
Published on 4 Jan 2018.
Boyle's Parliament Hill Meeting Raises Questions About Who Meets The PM
Joshua Boyle's family posted this photo with Prime Minister Justin Trudeau on Twitter on Dec. 19, 2017. (@boylesvsworld/Twitter)
"A meeting between the prime minister and former hostage Joshua Boyle's family in Justin Trudeau's Parliament Hill office is raising questions about who gets to meet with Canada's head of government and why."
By Peter Zimonjic.
Please follow the link to read the original article. Under Fair Use.
http://www.cbc.ca/news/politics/boyle-trudeau-gurski-meeting-1.4472099
Written By By Peter Zimonjic
Source: CBC NEWS POLITICS.
BONOKOSKI: The Curious Case Of Joshua Boyle And Justin Trudeau
Prime Minister Justin Trudeau appears with members of the Boyle family on Parliament Hill in Ottawa in pictures posted Dec. 19, 2017, to a Twitter account attributed to the family of released Afghan hostage Joshua Boyle.The Boyle Family / Twitter.
"The majority of mainstream media seemed intent upon bending over backward to initially avoid mentioning Justin Trudeau in the same story in which Afghanistan detainee Joshua Boyle was arrested and jailed in Ottawa over the New Years on 15 serious criminal charges. What were they possibly thinking? That it was up to them to spare the prime minister another embarrassment?"
Mark Bonokoski.
Please follow the link to read the original article. Under Fair Use.
BONOKOSKI: The curious case of Joshua Boyle and Justin Trudeau
Written By Mark Bonokoski
Source: Toronto Sun.
Rescued Hostage Faces Criminal Charges?
Image: Reuters/Mark Blinch
"How to go from sympathy to antipathy in one easy step."
Good Integrate
Published on 2 Jan 2018.
Joshua Boyle Arrested, Facing Criminal Charges
Mark Blinch/Reuters.
"Canadian Joshua Boyle has been arrested and is facing 15 criminal charges. Boyle and his family were rescued from Taliban captivity in October, five years after he and he wife were abducted on a trip to Afghanistan. Boyle was arrested late last year and remains in custody on charges including sexual assault, unlawful confinement and uttering threats."
The National
Published on 2 Jan 2018.
Canadians Didn't Sign Up For Trudeau's Scandals And Bad Policies
Geoff Robins VIA GETTY IMAGES
"It has been more than a year since Canadians voted in a federal election to grant Justin Trudeau a majority government, after one of the longest federal election cycles in modern Canadian history.
Trudeau's overwhelming support came from a message that revolved around "change." His campaign made a plethora of campaign promises, offering a fresh face, new ideas and the promise of transparency for the Liberal platform.
Trudeau's actions in government have not lived up to expectations, and Canadians are taking notice. A recent poll has shown the Liberal government's approval rating dropping a staggering nine points to 42 percent, from a November poll which had Liberal support at 51 percent."
Luke Rebello
Please follow the link to read the original article. Under Fair Use.
http://www.huffingtonpost.ca/luke-rebello/justin-trudeau-broken-promises_b_13900284.html
Written By Luke Rebello
Source: HUFFPOST.