Gasps And Awe As 'Super Moon' Rises Over Mayon Volcano
Free Background Stock. Mayon Volcano, in The Philippines. #Once In A Blue Moon?
The legend of the two lovers at Mayon Volcano.
Published on 1 Feb 2018
Skywatch Media News.
https://www.youtube.com/watch?v=CqOcrnB3sZQ[/embedyt
Gasps And Awe As 'Super Moon' Rises Over Mayon Volcano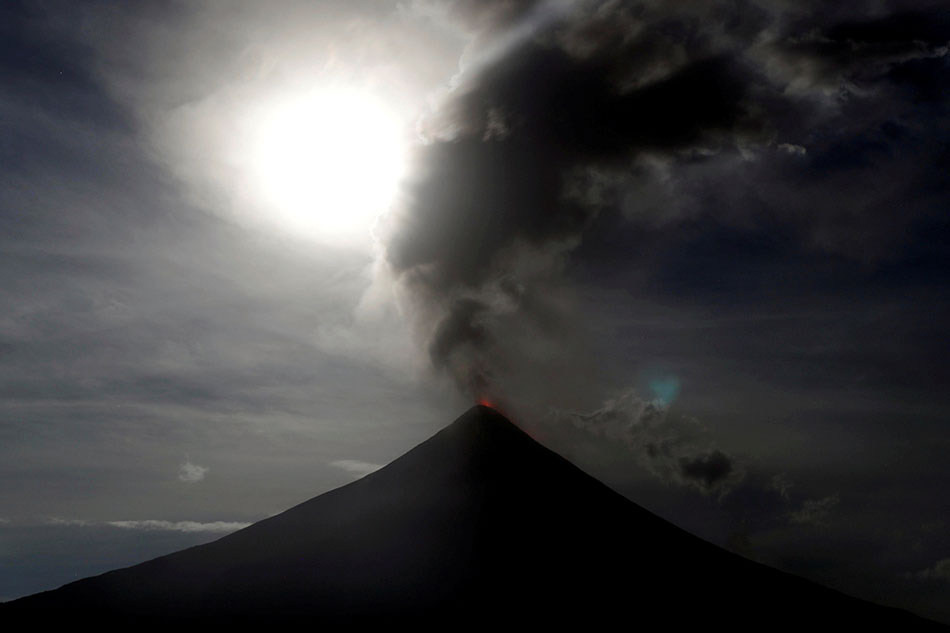 The super blue moon rises above the spewing Mayon Volcano during a mild eruption before a total lunar eclipse in Legazpi City on January 31, 2018. Erik De Castro, Reuters
"Filipinos sheltering from the erupting Mayon Volcano gasped in delight as an orange full-moon eclipse shone above the mountain's smoldering crater Wednesday in what was both a once-in-a-lifetime double spectacle and a rare moment of relief.
Mount Mayon — the country's most active volcano — has been spewing spectacular but potentially lethal ash and lava for the last fortnight, forcing some 90,000 people into cramped safe zones where sanitation conditions are dire.
 But the "super blue blood moon", the first to be seen in 36 years, provided a moment of awe, entertainment and reflection for many of those gazing skywards Wednesday evening.
At schools in the towns of Ligao and Guinobatan where hundreds of refugees from the volcano were crammed, up to 80 in each classroom, children and adults alike squealed as the moon first took on a spectacular crimson hue.
"I feel happy seeing the moon but also nervous especially now that the volcano is erupting," Richel Toledo, a 38-year-old pig-rearer, told AFP. "I don't understand if this is some kind of mystery that is unfolding."
The celestial show was the result of the Sun, Earth, and Moon lining up perfectly for a lunar eclipse just as the Moon is near its closest orbit point to Earth, making it appear "super" large.
It is the second full Moon within the same month, a phenomenon called a "blue" Moon which has nothing to do with its color.
The "blood" in the name comes from the reddish brown color the Moon takes on when Earth enters between it and the sun, cutting off the light rays that usually brighten the lunar surface."
Ayee Macaraig, Agence France-Presse
Please follow the link in order to read the original article. Under Fair Use.
http://news.abs-cbn.com/focus/02/01/18/gasps-and-awe-as-super-moon-rises-over-mayon-volcano
Written By Ayee Macaraig
Source: ABS CBN NEWS.