Free Background Stock. Mind Control For The Masses. #All Humanity is 'Wetware'. #Patents Have Been Filed To Take Over Our Minds.
You Will Be Completely Controlled — You Are Wetware — Implanted Devices and Mind Control Hijack You
Free Background Stock. Man The Unknown. #The New World's Disorder Fighting To Control Our Minds. #They Are Using A.I. And Covert Technologies To Summon Our Demons. #Evil.
"WARNING: THIS WILL BOGGLE YOUR MIND. Completely and permanently. Wetware is defined as "humorous: human brain cells or thought processes regarded as analogous to, or in contrast with, computer systems" and (chiefly in science fiction) "computer technology in which the brain is linked to artificial systems, or used as a model for artificial systems based on biochemical processes." No. This is here and now. This is not science fiction. The frontman for government Big Brother has been identified and he holds the most disruptive patent ever facing civilization and human evolution. I interview Thomas Payne who along with Betsy Ross explore the corrupt U.S. Patent Office and how it has laid the digital web over the entire planet. No one will be able to escape unless we act now to sever its hydra-head. These are critical pieces that accompany and supplement the items discussed and referred."
Lionel Nation
Published on 21 Jan 2018
Are We Close To Making Human 'Mind Control' A Reality?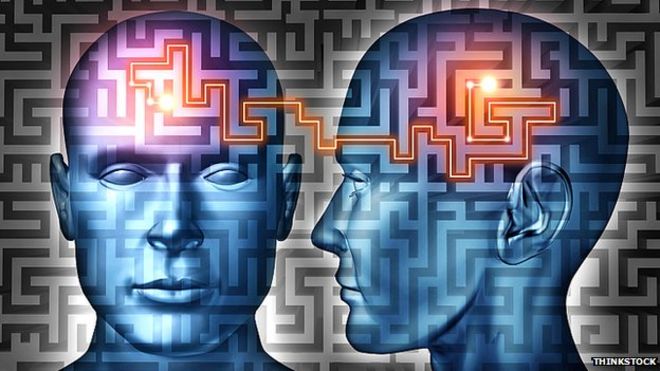 Image Courtesy of THINKSTOCK.
"With one tap on his space bar, Andrea Stocco fires the cannon on his computer game and blows a rocket out of the sky. The game itself is unremarkable – in fact, it looks like a relic of the 1980s. What is remarkable is the way it is being played because the University of Washington researcher can't actually see it. The person who can, fellow scientist Rajesh Rao, is sitting across campus looking at the screen.
He is wearing a cap with wires coming out of it (which looks like something you might have seen in a 1950s sci-fi programme that was imagining this moment). Without moving a muscle, or using a communication device, Mr. Rao told his colleague to fire the cannon at just the right moment.The only thing Mr. Rao had was the power of his mind, so, at the right moment, he imagined firing the cannon.This sent a signal via the internet to Mr. Stocco, who, wearing noise-cancelling earphones (and a purple swimming cap) involuntarily moved his right index finger to push the space bar."
Michael Millar.
Please follow the link to read the original article. Under Fair Use.
http://www.bbc.com/news/business-23994649
Written By Michael Millar
Source: BBC NEWS.
Your Brain's Wetware Formulates Opinions Without Asking
Free Background Stock. The Neural Control Mechanisms. #Serving Mind-Control For The Masses.
"There's no more central message of psychology than the fact that most of what goes on in our heads we have no access to." Nisbett's latest book is "Mindware: Tools for Smart Thinking" (http://goo.gl/klT52e)."
Big Think
Published on 6 Nov 2015.